Long easy grip tube
I wonder who "K" is?
Wand sponge application
It has tiny gold sparkles
On my lips (without flash)
   "Charmed by K" by H & M is a sheer but shiny red lip gloss that makes your lips really standout. It has tiny gold flecks that sparkles especially when hit with light. The intense red color looks vivid and bright. It looks sexy and appealing on the lips. And you will definitely get noticed! 
Pros:
-nice red color
-makes your lips shiny and sparkly
-lips feels moisturized
-cheap
-handy long tube
Cons:
-color can be too bright for some
-sticky/gooey feeling on my lips
-doesn't last long enough
Overall:
   It's an okay lipgloss for me but I'm not totally crazy about it coz it doesn't have long staying power. If your the lazy type then forget about it.
    But for quick touch ups during clubbing and night outs it can be quite useful especially if you want to add a little drama to your lips as the brilliant color alone will surely make your lips dazzle even in the dark.
   It is one of those dispensable lipgloss in my collection. I can live with or without it. I can lose this without feeling too bad because of it's cheap price and at the same time live with it because of it's nice color, I use it as an alternative gloss when I'm bored with my other range of lippies.
    If you want another variety of lipgloss with an exciting touch of red color then this one is a go!...just don't expect too much so you won't get disappointed with it. :-) ta-ta!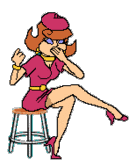 Mwaaah!!!