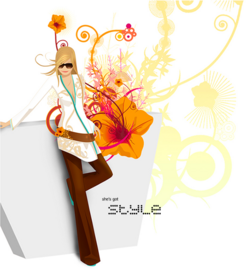 Have you ever had girl crushes? Or have you discreetly tried to check another pretty girl out? I'm guilty of such! Don't get me wrong, I'm 100% a girlie girl but the sight of a sexy, foxy lady strutting by makes my head turn 360 degrees.
I appreciate beauty in all forms. Tall, short, blondes, brunettes, tan, black, white, slim and curvy. As long as the girl behind it knows how to carry herself well. Dresses impeccably and exudes that confident attitude. I admire women who take the extra effort to look their very best when going out. Of course if you're a natural knockout beauty you'd turn heads effortlessly.
But even the average girl-next-door could elicit the same reaction if she knows how to carry herself , knows how to make the most out of what she's got, and knows how to flaunt and highlight her positive attributes. I often find myself thinking "Man I wish I had her style!" or "I never knew those shoes and purse could actually look good together!" or "Damn her makeup looks so good on her, I wonder what products she used" or "I'd kill to have gorgeous legs like her!" and the thought bubbles goes on and on...
Men check out girls most of the time. But when it's women who checks you out, I think it's the highest form of flattery. Why? Coz we are the discerning bunch. We easily spot and criticize any flaw or imperfections. We are the hardest ones to please. Maybe because most of us has this built-in attitude that I'm better than her or we normally see ourselves higher than the average girl. So when THAT somebody enters the picture, oozing with so much sex appeal, with that elusive X-factor, our senses begin to go mumbo- jumbo. Well, how often do you get to see a woman who makes your jaw drop?
One time I remember being at the counter of Target. The woman behind me is oozing with so much appeal. In fact she doesn't even seem to know it. She's wearing plain tracksuit, barely a trace of makeup, her hair up in a bun with a few wisps on the side. I elbowed my younger sister and silently whispered "Hey check that girl out!" of which she replied,"Yeah, already did!". We both had that understanding, we both knew and were both silently in awe. I wished I was like her...
There are tons of pretty women everywhere. In L.A. alone there are lots of wannabe actresses who even looks better than the actual stars. Even some of the cocktail ladies at the casinos or the strippers that I've seen in Vegas could give real models a run for their money, if given the chance. There are thousands of unknown beauties undiscovered and unrecognized. But they continue to give delight to the eyes of regular denizens and Joes.
These goodlooking girls makes me wanna better myself. I get inspired by em'. I get tips and pointers just by staring at them alone. I mentally list whatever things I like so that I can try to apply and emulate it. Note to myself: buy those heels, wear similar belt, get that cute top...etc...etc. It's not just the beauty that knocks me out but their sense of styles as well.
Somewhere, somehow, some eye would look at us. Appraise us and judge us unknowingly. So we better prepare ourselves and get ready. Nothing is worse than a sight of an unkempt woman who doesn't give a care in the world.
I always make it a point to look decent even if I'm just going to buy tampons. For I don't know who I might bump into. I certainly don't wanna hear acquaintances say "What the f*?! happened to her?". It's okay to be vain and do whatever it is that floats your boat as long as you look good, then you'll feel good.
So for all the single ladies, always try to primp and prettify yourselves everytime you go out coz who knows Mr Dreamboat might just be lurking at the corner, or perhaps you might even catch the eye of some prince of Persia or Tuttamunga.
For all those who are taken, please never ever let go of your looks or style. Men gets pleased with a woman who preserves her beauty. And lastly, for those who simply don't care. I rest my case. God bless you all! Ta-ta!:-)