Presenting one of my all time fave pink lipstick...Bobbi Brown Tea Rose
I've used this lippie so much that im about to finish the tube
Swatch on my skin
This enchanting pink shade in Tea Rose has never failed to make my lips look lovely. The pink-brown color complements my skintone and gives me that blooming effect.
The staying power of this lipstick is excellent. Its creamy texture evens out my liptone and gives that perfectly matte look. It doesn't bleed or feather and it applies smoothly. The only glitch is that I find it quite drying on my lips so I just layer it with a clear gloss or balm.
This is certainly one of my go-to lip color. Looks natural and very flattering! If you want to have that bloom...bloom...bloom look written all over your face, then Bobbi Brown's Tea Rose is the one for you!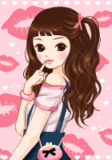 Mwaaah!!!